Master The Art Of Writing Summer Captions for Instagram with the help of the following tips. Are you planning a vacation this summer season with your family?
Then this a place, you get amazing Summer Quotes makes perfect Instagram captions that include popular lines by influential people.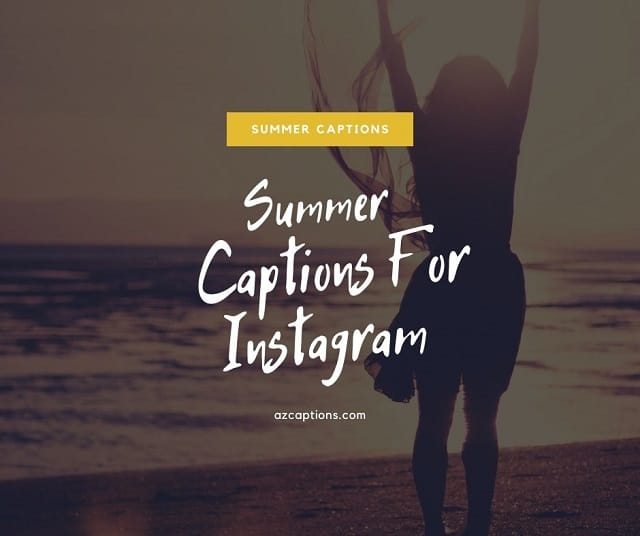 We have assorted captions for everyone that include if you are outing with friends, and if you are among the selfie person or addicted to selfies then these Summer Selfie Captions will make your day.
If you are going on a family trip, you must check out the exclusive list of Summer Captions funny that will suit you best. Many people love to have spent time at the beach, having sunbath.
DON'T_MISS | Pool Captions for Instagram
Outdoor activities always give a boost to your mood and feel energetic to do more.
Summer is the best way to enjoy your free time with family and friends.
Summer holiday is meant to get-together with your loved ones & celebrate every moment.
What's better than to relax at the beachside and enjoy sunbath?
There are some moments that you would love to capture especially when you are with your boyfriend or girlfriend, that moment will be memorable forever if you add captions to it.
That's why we have exclusive Funny Summer Captions for your social media pictures.
You can share these pictures with captions that create a great impact on a post that ultimately generates better engagement and likes.
20 Short Summer Captions
We have best lines on summer season, you will find End Of Summer Captions at the end of the post.
Keep reading till end, you will get your choice of captions that you were looking for.
READ: Graduation Captions for Instagram
A life without love is like a year without summer.
Keep cool and wear sunglasses.
I think it's time for a trip to the beach.
Good times and tan lines.
Some of the best memories are made in flip flops.
Good vibes happen on the tides
Good vibes happen on the tides.
Good Summer Captions For Instagram
Happiness is… a summer afternoon.
All my troubles wash away in the water.
I find my happiness where the sun shines
I'm ready for summer! Who's with me?
Hey Summer, I'm waiting for you
Live by the sun, Love by the moon.
I'm ready for the summer nights
MUST-SEE: Good Friday Quotes & Captions
Cute Summer Captions for Instagram | Summer Captions with Friends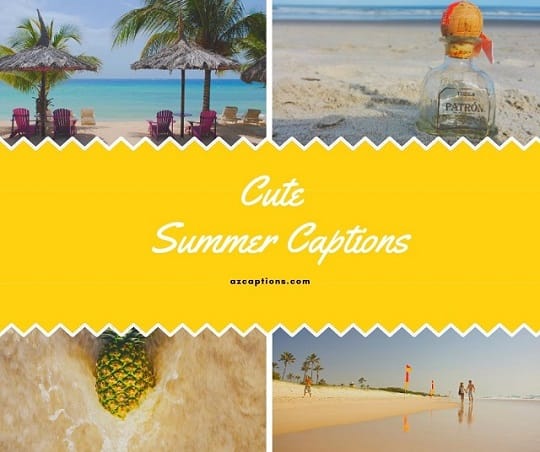 The beach is always a good idea.
Summer lovin', it happened so fast!
Life is better in a bikini.
With you, life's a beach.
It's gonna be a BRIGHT bright sunshinin' DAY
Sun-kissed hair and salty kisses…
A balanced diet is ice cream in each hand.
Watch more sunsets than Netflix.
Every day is one step closer to summer.
In a sunshine state of mind
These feet were made for flip flops.
End Of Summer Captions
Summer is a state of mind.
For a pic of you looking happy and optimistic by the pool
August is like the Sunday of summer.
Girls just wanna have sun *insert sun and music emoticons
Another summer is just around the corner.
Just the smell of summer can make me fall in love.
Time to officially remember what day of the week it is.
Summer will end soon enough, and childhood as well – George R.R. Martin
Summer's lease hath all too short a date. – William Shakespeare
Less Monday, more summer, please.
Funny Summer Captions
Have a nice summer vacation!
Friends, Sun, Sand and Sea that sounds like a summer to me
Have a nice summer vacation
You are my sunshine, my only sunshine
If you're not barefoot, then you're overdressed
Friday, my second favorite F word.
Sending you a little box of sunshine to brighten your day as you always brighten mine
Summer Selfie Captions
By the way, I'm wearing the smile you gave me.
She's a Queen with a little bit of savage." – r.h. Sin
Why be moody when you can shake yo booty?
Real eyes realize real lies.
Not my circus. Not my monkeys." – Polish Proverb
Don't worry, beach happy.
You're the 'she' to my 'nanigans'
Make it pop like pink champagne.
I'm multi-slacking today.
Eat. Beach. Sleep. Repeat.
Love you to the beach and back.
Summer Quotes For Instagram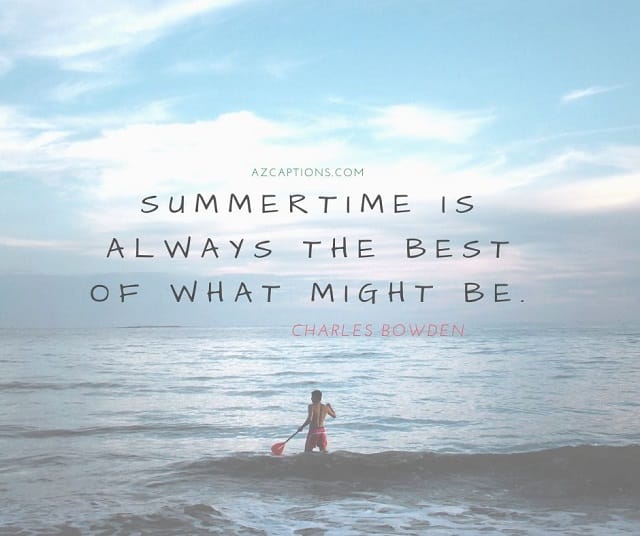 A little bit of summer is what the whole year is all about." —John Mayer
And all at once, summer collapsed into fall." — Oscar Wilde
You can't drink all day if you don't start in the morning." — Drake, "Signs
Every moment is a fresh beginning." — T.S. Eliot
A falling leaf is summer's wave goodbye." — Unknown
One benefit of summer was that each day we had more light to read by." — Jeannette Walls
Summer will always have a pizza my heart." — Unknown
Summertime is always the best of what might be." —Charles Bowden
A final word on Summer Captions
You have just explored short summer Instagram captions funny for the holiday pics and hope all of you enjoy reading them. This will make your summer holiday fun and memorable. If you like the list, do share it with your friends and colleagues.
ALSO-SEE:
100+ Cute & Good Easter Captions