Want to impress someone special with some witty Farmer Pick Up Lines? Here are the best pickup lines for farmers that you won't want to miss! Our farmers work day and night for all of us, so it's our turn to Let's make them smile with some sweet and funny pickup lines.
Our agricultural field has evolved considerably over time, with advancements in Agri technology that have changed the way we farm from what we did a few decades ago.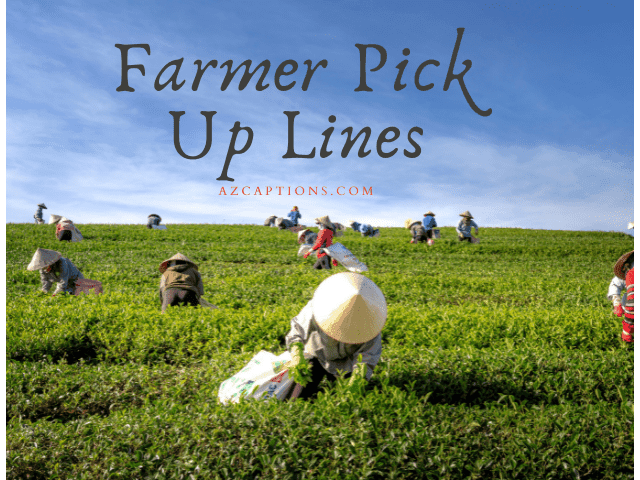 Based on agricultural equipment used in farming, we have compiled the best farmer pick-up lines dirty, funny & more.
Social media apps like Reddit, Instagram, Facebook, and WhatsApp have changed the way we interact with each other. Use these awesome lines about farming when you take a selfie, photos during harvest, and more!
10 Short Farmer Pick Up Lines
It's funny how slippery this jam is!
You smell like silage and sunshine.
Want to show me how to make steamy greens?
The way you moo attracts me like no other!
Want to melt my beeswax candles tonight?
If you were a tractor, I'd plow you all night long.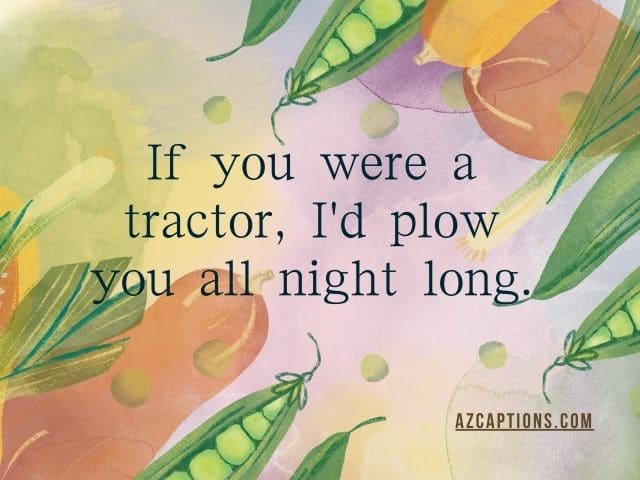 How many horses can you fit in your barn?
If you were a chicken, you'd be impeccable!
I'm a stud owner. Would you like to be one too?
I have celeriac seedlings in the back of my car.
READ | 39+ Fruitful Approach to Dating With Fruit Pick Up Lines
30 Farmer Pick Up Lines Reddit, Tumblr & More!
Hey, I'm outta work and I heard you needed some plowing.
You can treat me like a stack of hay, and you can bale with me.
Your father must've been a pumpkin because you look gourdgeous.
As an apiarist, I know a sweet flower when I see one.
Now you know I'm a veggie grower, can I call you pumpkin?
I won't tell you what I grow but I'll give you a hint, sweetpotato.
If I were a tractor and you were a plough, I would definitely hook up with you.
Of all the beautiful faces I just can't look at pastures.
I'll be the John to your Deere, and we can run together forever.
RELATED STUFF
I'm not a climate change denier but when you walked in things just got hot.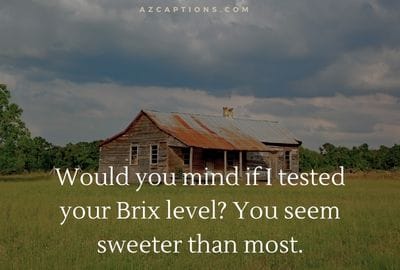 Would you mind if I tested your Brix level? You seem sweeter than most.
The back seat of my new Dodge lays right down.
Are you a scarecrow? Because you've been standing in my field all day and I can't take my eyes off you.
Sure, I grow vegetables, not jewelry, but even I know the more carats the better.
Look, I can't wheat to tell you; you make my heart sorghum.
Are you a farmer's daughter? Because you sure have grown some good-looking crops.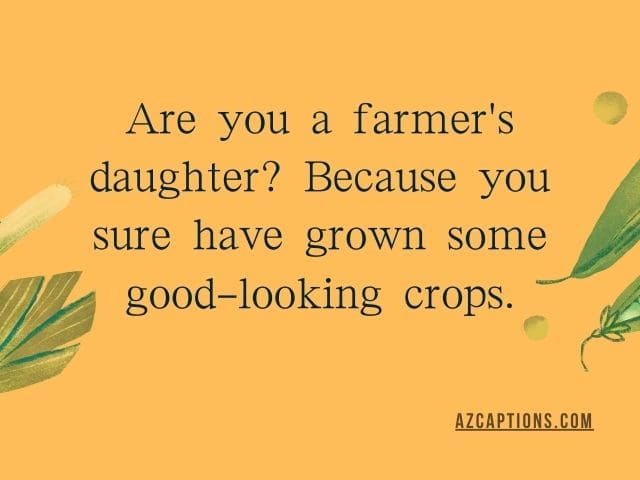 Hey honey… oh, sorry. I'm a beekeeper and it's a force of habit. I'll buzz off now.
I'll bring you a sammich while you're working hard.
These bags of organic spinach would make some great pillows don't you think?
I would love to see the way you farm.
Do you live in a cornfield? Because I'm stalking you.
Is your name Daisy? Because I have a sudden urge to plant you right here next to me.
I'll tell you how many acres I farm.
Would you like to come out to the farm and help me with the bees?
So, can I be your apprentice? I want to learn all about this farm-to-fork movement…
I'm a grain producer but I'm sure tired of going silo.
Do you believe in love at first sight, or should I drive by your farm again?
I'll take a half dozen organic eggs and one of you.
Contents