Daily fruit intake keeps you fit and healthy. Just sharing fruit-related pics is not enough; try these fantastic Fruit Pick Up Lines to make your Instagram pictures juicy, look enticing, and engaging.
Fruits are an essential part of our daily lives; people who take any kind of fruit daily are healthy and more energetic than people who don't take or rarely take them.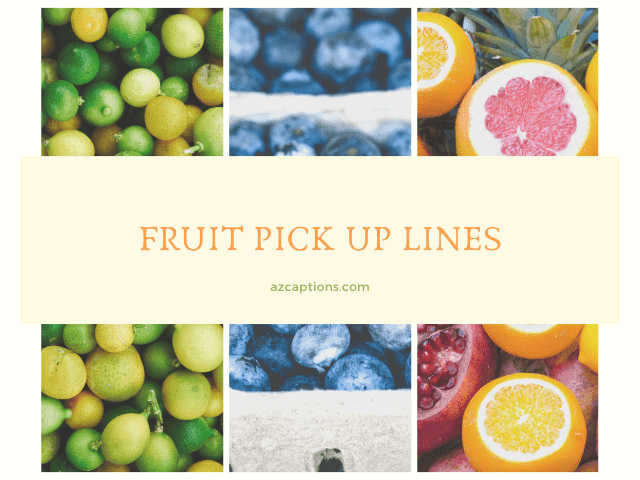 Fruits are natural resources that can be edible in raw form, with no adulteration, only natural sweetness. Make a habit of taking at least one fruit of your choice daily, such as an Apple, oranges, papaya, pineapples, etc.
RELATED | 59+ Inspirational Water Captions Quotes for Instagram Post
Take advantage of Seasonal fruits that make your body requirement fulfill. Also, added fruit pun pick-up lines you can use while sharing pictures on social media. Syndicate fruit-related pickup lines with your friend's circles so others can take advantage of them.
11 SHORT Fruit Pick Up Lines
Girl, you are berry cute.
You've got a peach of my heart.
Hey, I'm a fruit fly of course I like bananas!
How big does your squash grow?
I would share a paopu fruit with you.
If you will be mine, I lime yours.
I've bean thinking about you all day.
If Eve was tempted by an apple that has to be my fruit.
I'll trade you two pineapples for a go at your cucumber.
BEST Fruit Pick Up Lines Funny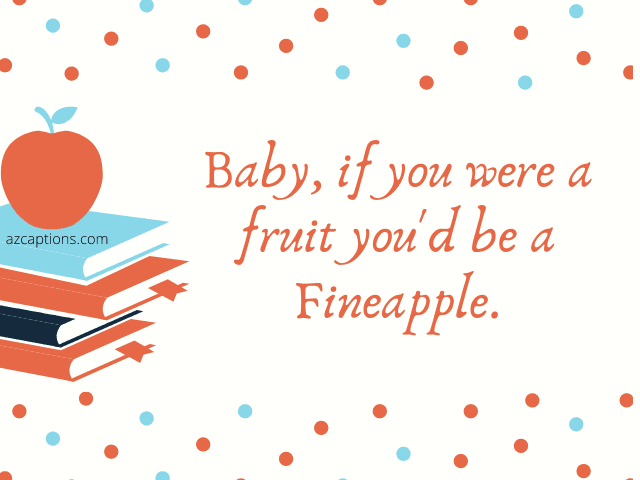 I love you from my head tomatoes.
I would live in a cornfield if it would make you stalk me.
I don't know about planting eggs but I do know I've got a massive eggplant.
Honeydew you eat a lot of mangoes? Cause you make a man-go crazy!
You probably know this already but your tomatoes look so juicy.
Girl, do you eat a lot of mangoes? Because you make a man-go crazy!
You remind me of the fruit in Lehi's dream; precious above all others.
I've always thought that cucumbers were such a sensual fruit.
Let me be the avocado in your turkey sandwich. I know I'd fill you nicely.
Do you have any raisins? [No…] How about a date?
I'll bet you've got the sweetest juice, cause you are berry cute.
Girl, you're a peach, and I could eat a peach for hours.
How do you take your watermelon seeds, spat out or swallowed?
Olive you so much even though it hurts.
Care for a dance? Cause it takes two to mango!
You must be a raisin, cause you're a raisin my eggplant.
I might have to see the dentist cause Orange you so sweet.
You have got a peach of my heart.
Your father must be a farmer because you´ve grown some nice melons.
Do you like cherries? If not can I have yours?I bet we´d make a cute pear.
Damn girl, you sure know how to farm! Cause' you are growing my stalk!
Hey girl, you remind me of the fruit in Lehi's dream; precious above all others.