Our schooldays were filled with studies about plants in Botany. We learned about their importance to the balance of our ecosystem. Share these Thought-provoking Plant Pick Up Lines with friends on social media sites like Instagram, Tinder, Reddit & more.
Plants in any form big or small are an inevitable part of our life. In the midst of all the slogans about greenery and the environment, here are some of the best plant pick up lines that are both funny and inspiring from Reddit.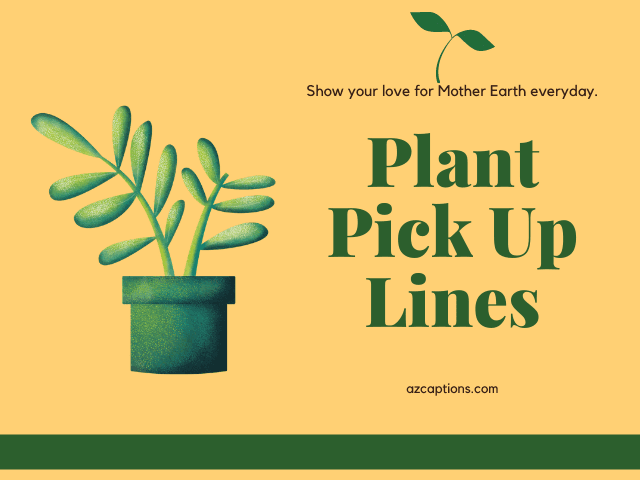 If you are planning a romantic date with your girlfriend, what would be better than taking her to the orchid garden full of beautiful flowers, and greenery everywhere?
READ | CUTE 23+ Fruit Pick-Up Lines That Hilarious
Send pictures of beautiful moments spent together along with green thumb pick up lines via Instagram that she will remember forever.
10 Short Plant Pick Up Lines
How big does your squash grow?
Can I trim your bushes?
I like your melons, can I taste them?
I love a man with a raised bed.
How about you and me turnip in your bed?
To me you are a sweet honeybee stinging my heart.
Do you wanna plant some Sugar Daddy?
I dig you more than a shovel digs up plants…
You must be a garden, cause I'm digging you.
Would you like my rosebush?
Best Plant Pick Up Lines | Green Thumb Pickup Lines
Hate to see you go, but I love to watch your leaves!
I got an apple tree In my backyard. I'd catch them like I'd catch you.
If you were mine, I would shell you in on the back porch like I shell my garden peas.
How long has it been since you mowed your lawn?
I wish you were a berry. Because I would bottle you as jam and enjoy you in winter.
Will we use your organic garden or mine?
Are you Daisy? Because I incredibly urge to plant you right here.
Roses are red, bananas are yellow and I want to go out with a fellow yellow.
If you were mine, you would be the perfect fruit of my labor.
Wait until you see my tangerines.
You could plant some seeds in my back garden!
I would pick you over and over again like I would pick a flower.
If I pollinate those petals with my pistil, will cost an additional fee?
Hey my delicate dainties, how often do you come here?
I like getting my hands dirty in any kind of organic garden
Of all the tomatoes have tasted, your heirloom are the juiciest.
It's said plants save the environment, but what is the essence of saving the environment when we are apart?