Pilot Pick Up Lines that reduces your stress level while flying. Some people love travelling for fun others travel for their passion. Here we presented you with pilot, travel, flying related pickup lines.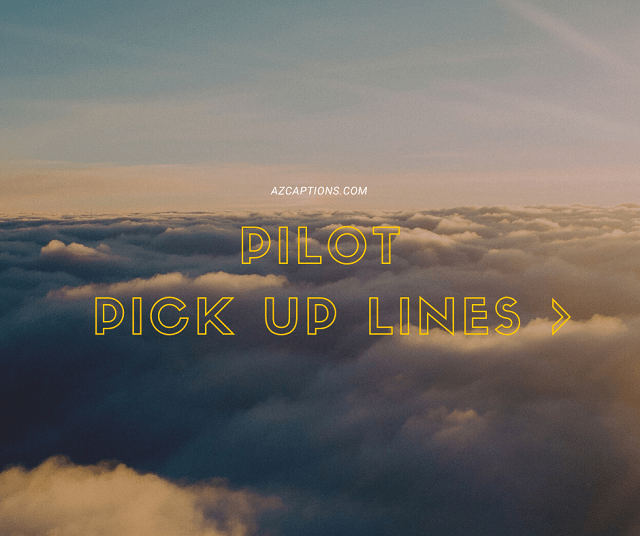 The profession of a pilot is a tough job, he/she is responsible for passengers safety, accountable for proper Airplane takeoff and safe landing.
Travelling & exploring new places is fun, but at the same time, it costs you a lot of money.
Nowadays travelling becomes easy because of the headache of logistics & transportation is easily available, also companies and travel agents are offering you lucrative packages.
But the only concern of travellers in an aeroplane might get malfunction, crash & sometimes be hijacked by terrorists.
With the anxiety you have when you are flying, you need a good sort of Pilot Chat Up Lines that is needed to keep your mind busy & put a smile on your face.
Contents
10 SHORT Pilot Pick Up Lines
Baby, you have hijacked my heart.
Will you join me for dinner in the mile high club?
Is your runway ready for landing?
If you become my pilot, I'll let you pull the stick.
Permission to land next to your seat?
Would you like to enter my cockpit?
May I have clearance to ask you out on a date?
Can I apply to be your frequent flyer member?
Damn, you just look plane sexy.
We should depart from here and have a soft landing on my bed.
Funny Pilot Pick Up Lines
I was lost until my radar pointed to your direction.
Been sitting here the whole afternoon cross-checking you out.
Want to land yourself a pilot? Here I am.
Excuse me, sweety, you're hotter than a jet engine set to full power.
READ: 49+ Car Pick Up Lines
I didn't know angels can be found at this altitude.
If carrying those baggage troubles you, I can carry them at no charge.
BEST Pick Up Lines For Pilots
What qualifications do I need to be your frequent flyer member?
Has anyone told you that your eyes are the color of 100LL?
Do you want to be a pilot? I'll teach you how to push all the right buttons.
You don't have to worry about bumpy rides. I'll make it smooth all way.
You and I should depart from here then have soft landing on my bed.
Will you be my pilot? I'll let you pull the stick.
Girl, you make me lose control and I'm crashing down on you hard.
Excuse me sweety, you're hotter than a jet engine set to full power.
Seeing you caused a turbulence in my heart.
This place is too noisy. Can we gear up and take off then land some quiet place?
MORE_STUFF