The Most Incredible Article About Coronavirus Pick Up Lines You'll Ever Read. COVID-19 pandemic hits almost every nation, started from Wuhan city of China, now spread like a wildfire. Due to the coronavirus pandemic, people are forced to stay indoors, the situation of lockdown is everywhere.
Any time we turn on news channels, we hear some bad news all around the world. When you keep hearing these kinds of news, it's quite natural to get depressed. At this point, we have to keep ourselves motivated and spread positivity among others.
In this situation, people are bored and stressed, for a change of mood we have got you covered Coronavirus Pick Up Lines funny that include motivating lines, that you can share with friends.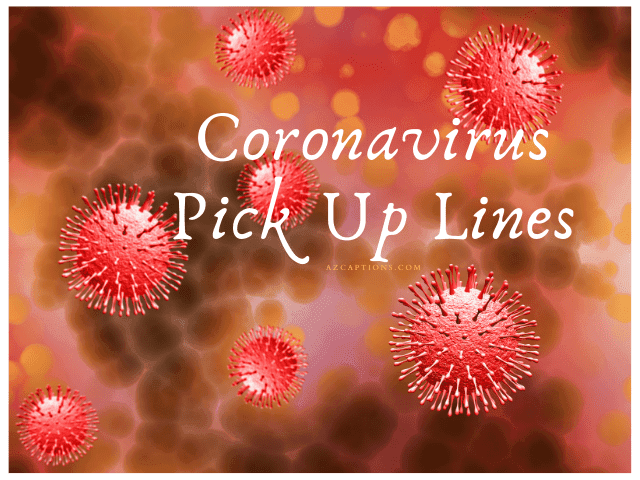 For the last many decades we have suffered many deadly diseases, and we have overcome them. Over time we will win the battle against deadly Coronavirus COVID-19. You must check Funny corona virus pick up lines that entertain you, and share with others.
READ | Incredible 43+ Doctor Pick Up Lines FUNNY, Reddit & More!
Keep yourself busy, stay positive, follow the government guidelines, wear a mask in public, go outside with complete protection whenever necessary, last but not least Let's hope for the best.
11 Short Coronavirus Pick Up Lines 2022
You can't spell virus without U and I.
Wanna get closer than 1.5 metres?
May I hold your hand or the latex from your glove?
I really can't stay" / Baby it's COVID-19 outside.
If COVID-19 doesn't take you out, can I?
Hey baby, you come within 6 feet of here often?
No one rocks a mask better than you.
Stay home if you sicc. Come over if you thicc.
Wanna get closer than 6 feet?
I saw you from across the bar. Stay there.
Hey, I wash my hands when there's no pandemic too;).
Best Corona Pick Up Lines Funny
Are you looking for a naughty boy? Because I only washed my hands for 19 seconds.
Wanna play Coronavirus and get spread on hard surfaces?
Our love is like COVID-19. No one saw it coming and we move fast.
Since all the public libraries are closed, I'm checking you out instead.
Come on over, I'll pay your fine if you get stopped.
That mask brings out the beauty in your eyes.
Our love is like COVID-19. No one saw it coming and we moved fast.
Wanna meet at the bar, heard they have Corona on the menu?
I may not have money, but I have rolls of toilet paper.
You smell like the ocean, is that Glen 20 Ocean Breeze?
Girl, are you down with the sickness? Because oh WAH AH AH AH
Do you need toilet paper because I will be your Prince Charmin.
Are you COVID-19 because if I had you near me I wouldn't leave the house for two weeks straight.