The #50 Grandma and Grandson Bond Quotes show the adorable relationship that impresses anyone.
Grandfathers and grandmothers play an important role in shaping their grandchildren's careers. They tell us how to live our lives happily and stay calm in difficult times.
Grandma has an incredible bond with their grandson. Grandparents day is celebrated in India on 12 September 2021. Today we have got you covered Grandparents Day Quotes that show the real bond.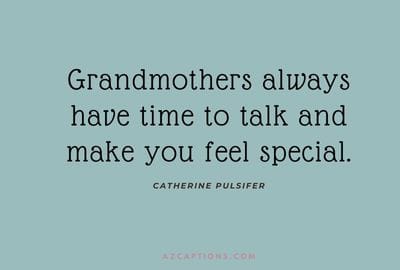 Like Parents Day, Grandparents Day is also celebrated to honour the grandparents and is dedicated to thanking them for all their sacrifices.
We are fortunate enough to have grandparents, and their blessings are always with us. Here we have a separate section for quotes that reflect the true love between Grandma and Grandson.
Top 10 Grandma and Grandson Bond Quotes
Grandmas hold our tiny hands for just a little while, but our hearts forever. – Unknown
Grandsons are a blessing. They bring a little sunshine into our lives and a little love into our hearts. – Unknown
Grandma's love is like no other. It's warm, unconditional, and will never fade. – Unknown
Grandma's hugs are the best. They're like a warm blanket on a cold day. – Unknown
Grandmas and grandsons have a special bond that only grows stronger with time. – Unknown
Grandmas never run out of love or cookies. – Unknown
Grandmothers always have time to talk and make you feel special. – Catherine Pulsifer
Grandmothers are the glue that holds the family together. – Unknown
Grandmothers and grandchildren share a special bond that lasts forever. – Unknown
Grandsons make the world a little brighter, a little louder, and a little more fun. – Unknown
READ | 33 Mother-Daughter Quotes Short for Cute Lovely Pics!
40 Best Grandma and Grandson Bond Quotes
A grandmother is a little bit parent, a little bit of teacher, and a little bit of a best friend. – Unknown
Grandsons are a grandma's reward for not killing her own children. – Gene Perret
Grandma, you are the glue that holds our family together. We love and appreciate you more than words can say. – Unknown
Grandma, thank you for always being there for me, for loving me, and for being my biggest supporter. – Unknown
Grandmothers are the people who take delight in hearing babies breathing into the telephone. – Unknown
A grandmother is a remarkable woman. She's a wonderful combination of warmth and kindness, laughter and love. – Unknown
A grandma's heart is a patchwork of love. – Unknown
Grandmothers are the true storytellers of the family. – Unknown
Grandmothers make the world a little softer, a little kinder, and a little warmer. – Unknown
Grandma always made you feel she had been waiting to see just you all day and now the day was complete. – Marcy Demaree
Grandmas are moms with lots of frosting. – Unknown
Grandmothers are just antique little girls. – Unknown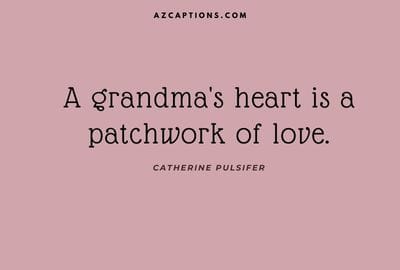 Grandma's kitchen is where memories are made and grandkids are spoiled. – Unknown
Grandmothers are the guardian angels of childhood. – Unknown
Grandma is a special word that means love. – Unknown
A grandmother's love is like no other love in the world. – Unknown
Grandmothers are the sunshine in our lives. – Unknown
Grandma's are the best friends a child could ever have. – Unknown
A grandmother's love never fades, it only grows stronger with time. – Unknown
Grandmothers are like stars, you don't always see them but you know they're there. – Unknown
Grandmas never run out of hugs or cookies. – Unknown
Grandmothers always have a hug and a kiss waiting for you. – Unknown
Grandmothers are the quiet unsung heroes of every family. – Unknown
Grandma's house is where cousins become best friends. – Unknown
Grandmothers always know just what to say and when to say it. – Unknown
A grandmother's love is felt long after she is gone. – Unknown
Grandmothers are the heartbeat of the family. – Unknown