Find solace and empowerment with these Not Feeling like a Priority in a Relationship Quotes that can help people change their perspective about life
Making your relationship a top priority, even if you are married and have children, that's the secret to happy married life. Likewise, if you are in love, spending time with your spouse is the most important thing you can do to strengthen your relationship.
Relationships often start badly when one of the partners starts taking their preferences over the other for no reason. These include lack of time, attention, affection, lack of interest, and caring attitude toward each other.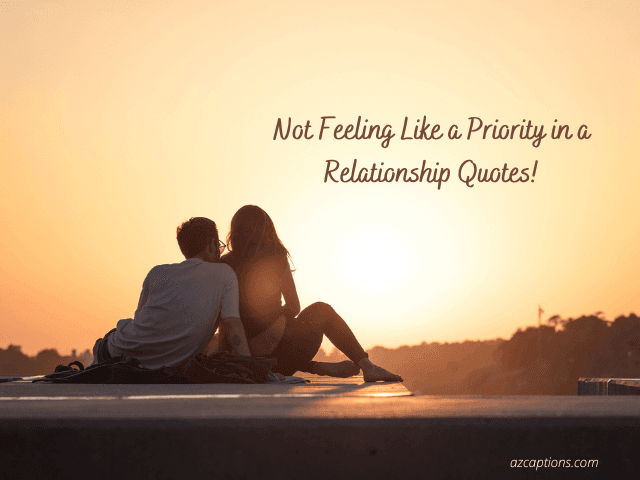 If you or your spouse don't care about each other, things will fall apart. You no longer have the same feeling of love you used to, and you start to feel like the beautiful thing you had is over.
Time is a great healer; it will change everything over time. Your partner's priority is now different. Suddenly, they do not have enough time or are tired of their relationship and do not see each other's faces. These quotes inspire you to make your family and relationships a top priority than anything else.
Not Feeling Like a Priority in a Relationship Quotes
If it is important to you, you will find a way. If not, you'll find an excuse.
I'm more than just an option; refuse or be forgotten. – Drake
Love is my first priority, all others may vary. – J M Gharst
If marriage isn't the first priority in your life, you're not married. — Joseph Campbell
In order to say yes to your priorities, you have to be willing to say no to something else.
Never make someone your priority when all you are to them is an option. – Maya Angelou
You are a priority. Not an option, last resort, or toy. Don't allow anyone to treat you like anything less. – Ritu Ghatourey
Not everything that can be counted counts, and not everything that counts can be counted. – Albert Einstein
There's no sense in talking about priorities. Priorities reveal themselves. We're all transparent against the face of the clock. — Eric Zorn
Never make someone your priority when all you are to them is an option. — Maya Angelou
No one is really busy. It all depends on what number you are on their priority list.
Love is a priority. True love is being a priority. – Ananya Aggarwal
If you're important they'll make a way. If you're not they will make an excuse.
Never love anybody that treats you like you're ordinary.– Oscar Wilde
It's not selfish to love yourself, take care of yourself, and to make your happiness a priority. It's necessary. — Mandy Hale
Busyness is not a reason for not getting other things done. It is an excuse for not claiming your true priorities. — Alan Cohen
Don't settle for being an option; become a priority.― Matt Mitchell
Your worth to others depends on how you value yourself, don't be an option to someone, be their priority. – Blaze Olamiday
10 Short Relationship priority quotes for her/him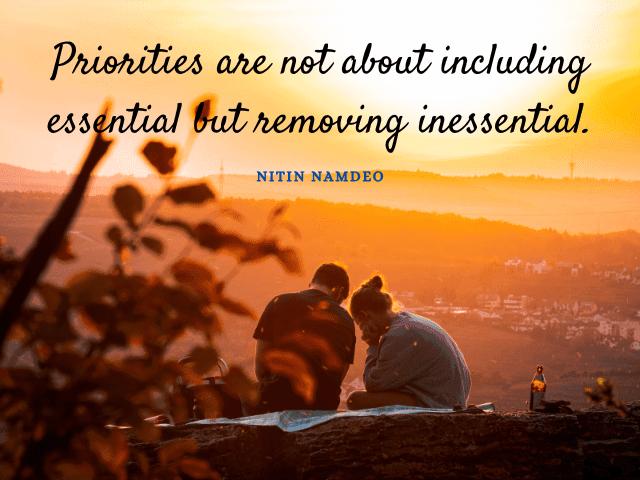 Pisces, give their relationship priority relative to other things."
Love is not who you can see yourself with. It is who you can't see yourself without.
As priority changes love changes. – Tashiya
Make your relationship your number one priority. – Lisa Ling
Never love anybody that treats you like you're ordinary. — Oscar Wilde
When priorities change replies get slower. Conversations get shorter situations are blamed.
Happiness is not a priority for me.I prefer the dangers of being madly in love. – Paulo Coelho
Make yourself a priority. At the end of the day, you're your longest commitment.
All relationships go through hell, real relationships get through it.
Love is family, support, priority and understanding. – Gary Kemp
ALSO_READ | 27+ WHEN SOMEONE IS LYING AND YOU KNOW THE TRUTH QUOTES!